KRE Motorcycle Washing Machine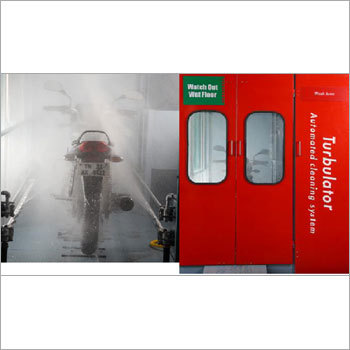 KRE Motorcycle Washing Machine
Product Code : 06
Brand Name : KRE
From past many years, we are known to be one of the prominent manufacturers of KRE Motorcycle Washing Machine. The motorcycle cleaning machines are widely in demanded across branded bike service centers. Easy to install and operate, these systems are appreciated among the clients for their efficient and economical facilities. Further, clients can avail the KRE Motorcycle Washing Machine with electrically controlled system that is handled by the well integrated control panel.
Features:
Robustly structured
Provide quick operations
Automatic in functionality
The new generation of KRE Motor Cycle Washing Machine is robust in construction which carries out the operation of washing of Motor cycle quickly, economically and efficiently. All operations of the machine are totally automatic which are controlled and monitored by a control panel.
The operator mounts the Motor cycle on the wash pad and ensures that front tyre is fixed in tyre mount. The operator pushes the start / stop switch. The pre-soak cycle (detergent spray) starts. The detergent cycle stops after 10 secs. After it stops there is a delay of 15 secs for soaking. After this delay the water pump (pre-wash cycle) starts (15 secs).
After the pre-wash cycle stops, there is delay period given for loosening the mud (15 seconds). After the delay period Rinse cycle starts (45 secs). After the automatic operation is over the operator adjusts the 3 way valve for using the hand lance (selects manual in sub control panel). The wash pump starts and with the hand lance cleans the scooter/bike wherever required. Once the cleaning is over operator will keep the hand lance in the hand lance holder and will select the selector switch on sub control panel to normal. Operator will adjust the three way valve for normal spray and then the scooter/bike is driven out into the drying area where it will be dried using special blow dryers made for this purpose.
All operations of machine are totally automatic and are started by press of a switch. The total time taken to complete the cycle is 2 min - 40 secs. The timings of each cycle are adjustable.